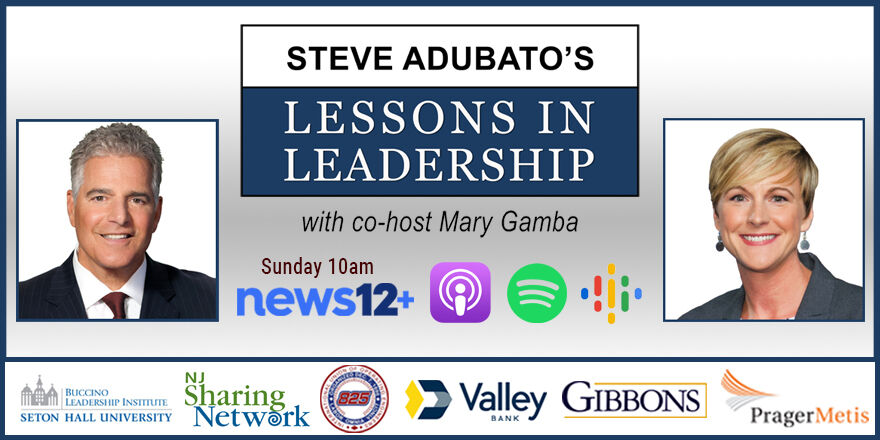 Steve Adubato, PhD, is the anchor of several programs on PBS stations WNET and NJTV and is the author of
five books including his latest, "Lessons in Leadership" and "What Were They Thinking", which
examines crisis communication and leadership during challenging times. Steve's "Lessons in Leadership"
video podcast with co-host Mary Gamba airs Sundays at 10:00 a.m. on News 12+. Log on to www.Stand-
Deliver.com to watch this video podcast, or subscribe to the podcast on Google Play, Apple Podcasts or
Spotify. Steve also provides executive leadership coaching for a variety of organizations both regionally and
nationally. For more information and to find other articles Steve has written on communication and
leadership in challenging times, visit www.Stand-Deliver.com
---
First Impressions Matter
Steve Adubato, PhD
You never get a second chance to make a first impression. Those words are truer today than ever before. The messages we send in the first few moments of any interaction, whether in person or remotely, can leave a lasting impression on those around us. Consider some of the keys to making a positive first impression.
--Camera on. This one may seem obvious, but if you are communicating in a virtual setting, it is nearly impossible to make a good first impression if the other person or audience cannot see you. As a matter of fact, if your camera is off, the message being received by your audience is that you either aren't confident enough in you or your message to be seen, or worse, that you don't value the discussion enough to turn on your camera. Either way, the receiver will be turned off if you don't turn on your camera.
--Stand tall. Okay, if you are in a meeting, you may also sit tall, but you get the idea. Your posture when communicating or leading a meeting says a lot about your overall energy, confidence, and intention. If you are slumped over in your chair or bending one knee and leaning while presenting at a podium, you are sending the non-verbal message that you are tired, disinterested, or potentially bored, even if you are none of these things. Keep your body alignment in check the next time you are trying to make a great first impression.
--Smile. The power of a smile cannot be underestimated. A warm, natural smile communicates that you are friendly, approachable, and happy to be there having a conversation with that person or audience. This is especially important when meeting someone for the first time, since someone's reaction to you is greatly influenced by whether you smile.
--Genuine interest in other people. People often feel good about other people they meet for the first time, when the person they are meeting makes them feel good about themselves. Positive first impressions are made by people who ask questions of others. They show interest and concern without being nosey or pushy. They pay attention to what is being said and follow up to find out more. There are other simple ways to communicate your interest in other people, which include using someone's name in a conversation or when meeting someone you are aware of but have never met before; "Jim, it's great to meet you. I've heard a lot of good things about you from Bob."
--Eye contact. Our eyes can communicate something beyond and even deeper than words. Our eyes can show emotions such as fear, happiness, boredom, and uncertainty, so are one of the major factors in someone's first impression of us. That's why you may not be open to doing business with someone who can't look you in the eye and why we often make negative judgments about people who have shifty eyes. Practice using effective eye contact as a way to engage others in a more genuine and sincere fashion.
--Positive and upbeat attitude. Have you ever noticed that when you are around someone that has a positive outlook on life, it is contagious? No one wants to be around people with a negative or cranky attitude. That doesn't mean you walk around with a goofy grin on your face all day acting like the world is perfect, even if it is falling apart around you. Rather, having a positive attitude communicates that you can deal with just about anything that happens and helps to ensure that the message you are sending is more positively received.