'Radio Night Live' with Kevin McCullough
Call the show at 888-340-3373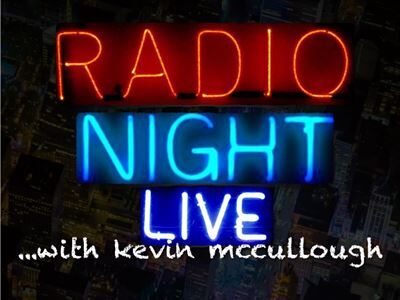 Radio Night LIVE: a throwback to the origins of great talk radio. Important guests, the top stories, and more than it's share of fun and inspiration. Top rated talk host Kevin McCullough brings a sense of respect to the legacy of the genre, while infusing it with new technological upgrades, listen, view, call, and tweet with him weeknights at 7p.
Show Links:
Sponsored By:
---
Watch the Show
---
Sunday, September 24, 2023
---
Kevin McCullough hosts Radio Night Live weekdays 7-8pm EST on AM970 The Answer.
McCullough is a political/cultural commentator on FoxNews' America's Newsroom.
He hosts a 2min The News That Makes You Think feature airing on 400+ radio outlets nationally.
He hosts nationally syndicated hybrid news/faith talk broadcast The Kevin McCullough Show airing on 200+ outlets.
McCullough "originated content" constitutes 1200+ affiliate clearances per week.
TALKERS Magazine recognized McCullough as the 11th most listened to voice in talk radio in America in 2015.
TALKERS Magazine recognized McCullough as number 31 on their annual list of the "Heavy Hundred" hosts in 2015.
McCullough is a syndicated columnist.
McCullough has authored 3 books, including the Best-Selling: "NO HE CAN'T: How Barack Obama dismantled Hope and Change"
His passions are Aimee, James, Jonathan, and Charlotte.