'Radio Night Live' with Kevin McCullough and Cristyne Nicholas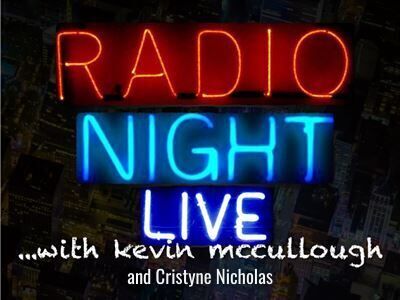 Radio Night LIVE: a throwback to the origins of great talk radio. Important guests, the top stories, and more than it's share of fun and inspiration. Top rated talk host Kevin McCullough brings a sense of respect to the legacy of the genre, while infusing it with new technological upgrades, listen, view, call, and tweet with him weeknights at 7p.
Show Links:
Sponsored By:
---
Watch the Show
---
Sunday, June 4, 2023
---
Kevin McCullough hosts Radio Night Live weekdays 7-8pm EST on AM970 The Answer.
McCullough is a political/cultural commentator on FoxNews' America's Newsroom.
He hosts a 2min The News That Makes You Think feature airing on 400+ radio outlets nationally.
He hosts nationally syndicated hybrid news/faith talk broadcast The Kevin McCullough Show airing on 200+ outlets.
McCullough "originated content" constitutes 1200+ affiliate clearances per week.
TALKERS Magazine recognized McCullough as the 11th most listened to voice in talk radio in America in 2015.
TALKERS Magazine recognized McCullough as number 31 on their annual list of the "Heavy Hundred" hosts in 2015.
McCullough is a syndicated columnist.
McCullough has authored 3 books, including the Best-Selling: "NO HE CAN'T: How Barack Obama dismantled Hope and Change"
His passions are Aimee, James, Jonathan, and Charlotte.
---
Cristyne Nicholas, CEO with George Lence, founded Nicholas & Lence Communications in 2007. Known for rebuilding NYC's $27 billion dollar tourism industry following the tragic events of September 11th , she launched the City's first consumer TV advertising campaign, patriotic tourism initiatives such as Paint the Town Red White & Blueand recruited major events such as The World Economic Forum, The Grammy Awards, RNC 2004, Country Music Awards, and Super Bowl XLVIII.​
Cristyne began marketing the City in 1994, serving as City Hall press secretary and later, communications director, overseeing press operations for all city agencies. Upon graduating from Rutgers, her career path began as a campaign aide to US Senator Bill Bradley (NJ), press secretary to US Representative Helen Bentley (MD), and President George H.W. Bush's campaign press secretary for NY & NJ.
Cristyne was named 40 under 40 by Crain's New York Business, Top 100 Women by City & State New York, Top 25 People in travel by Travel Magazine, and one of 10 most influential people in the travel industry by Meetings and Incentive Magazine. In 2012, she was appointed her as Chair of the State's Tourism Advisory Council. She serves as the Chairman of the Broadway Association and is on the Steering Committee the Association for a Better New York (ABNY). Cristyne co-hosts AM970's Radio Night Live's "Fun Friday" with Kevin McCullough, centered around all things New York tourism and hospitality.