Swimming with the Shark, featuring Marc Garbar, Esq. and Kevin McCullough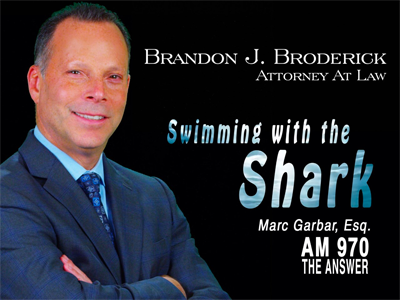 Brandon J Broderick, Attorney at Law, comes to the airwaves for prime time, afternoon drive radio, with Marc "the Shark" Garbar, Esq., who delves into the latest developments in employment law and business litigation. Brandon J. Broderick is one of the mostly popular and recognizable names throughout New York and New Jersey. Whether you're an employee or a business owner, you need to know your rights and how to navigate the ever-changing legal landscape. Brandon J. Broderick, Attorney at Law, featuring Marc Garbar, Esq., along with the eternally effervescent Kevin McCullough, completes the day's engaging and entertaining journey. Fasten your seatbelts and enjoy the ride!
---
Since 1995, Marc Garbar, of Brandon J. Broderick, Attorney at law, has been a trailblazer in the legal community, staunchly advocating on behalf of victims of sexual harassment and employment discrimination, while conversely educating and representing businesses. Brandon J. Broderick, Attorney at Law, which is a proven leader in the industry, has 20 trusted attorneys, over 100 employees and litigated hundreds of jury trials. Brandon J. Broderick also represents clients in disputes involving business break-ups, restrictive covenants (non-compete, non-solicitation), commercial litigation and State and Federal Department of Labor audits. When not on the front lines battling on behalf of clients, Marc Garbar is often requested to resolve other attorneys' clients' disputes as he is also an acclaimed mediator throughout New Jersey. From 2008 through 2011, Marc served as lead attorney as Special Counsel, representing the State of New Jersey for Labor Negotiations matters. Since 2015, Marc has partnered with Goldman Sachs as its featured speaker in Goldman Sachs' 10,000 Small Businesses Legal Seminars in New York. Marc was recently tasked by Goldman Sachs to lead and expand the Small Businesses Program into New Jersey. Marc is also a trustee of UHMLA, a non-profit organization that mobilizes surgeons, nurses, medical professionals and volunteers for medical service missions throughout Latin America. Marc has written published pieces for the New Jersey Law Journal which include: "A River Runs Through It, a primer on the perplexing differences between NJ and NY employment law;" and "LAD Update: The Logic of Aiding and Abetting One's Own Conduct, Understanding and applying an awkward theory of liability." Marc also authored a chapter, "Nuts and Bolts of Employment Law," in the paperback Stop My Crisis series.

In 2019, Marc joined Brandon J. Broderick, Attorney at Law, to spearhead the Brandon J. Broderick Employment Law and Business Litigation Group, which he heads and manages.

Brandon J. Broderick is the host of "Swimming with the Shark, featuring Marc Garbar, Esq.," which airs M, T, Th and F, from 5:00-6:00 p.m.,, on AM970 THE ANSWER, live from the Brandon J. Broderick Studios in New York City.
---
---
Kevin McCullough hosts afternoon drive for the Salem Media NYC.
Kevin McCullough Radio airs 3pm EST on AM 570 The Mission and 5pm EST on AM 970 The Answer.
McCullough is a political/cultural commentator on FoxNews' America's Newsroom.
He hosts a 2min The News That Makes You Think feature airing on 400+ radio outlets nationally.
He hosts nationally syndicated hybrid news/faith talk broadcast The Kevin McCullough Show airing on 200+ outlets.
McCullough "originated content" constitutes 1200+ affiliate clearances per week.
TALKERS Magazine recognized McCullough as the 11th most listened to voice in talk radio in America in 2015.
TALKERS Magazine recognized McCullough as number 31 on their annual list of the "Heavy Hundred" hosts in 2015.
McCullough is a syndicated columnist.
McCullough has authored 3 books, including the Best-Selling: "NO HE CAN'T: How Barack Obama dismantled Hope and Change"
His passions are Aimee, James, Jonathan, and Charlotte.