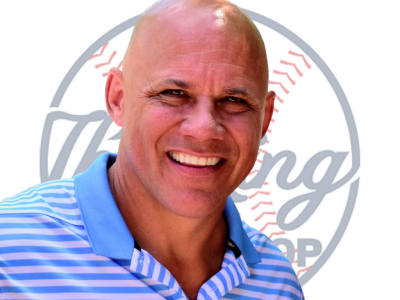 ---
James Joseph Leyritz was born on December 17, 1963 in Lakewood, Ohio. From a young age, Jim exercised his love and natural abilities for all things athletic, especially basketball and baseball. Jim chose to pursue his baseball career after his junior year of high school and was thought to be a possible Number 1 pick in the June draft of 1982 (with his childhood friend and teammate Barry Larkin) . Unfortunately, Jim broke his foot two days before the draft and began attending Middle Georgia Jr. College. Still undrafted after two years, Jim went on to play at the University of Kentucky where he was signed as a free agent in 1985 after playing for the Jayhawk Collegiate League in Hayes, Kansas
Jim reported to the Yankees spring training in the spring of 1986. He spent four seasons in the Yankee minor leagues and led his teams to 3 championships (A, AA, AAA). He won the AA batting title in 1989 as a member of the Albany Colony Yankees. In 1990, Jim -- primarily a catcher -- made it to the last day of Spring training with the big league club only to be sent to AAA to become a 3rd baseman. He made his major league debut in June of 1990 against the Baltimore Orioles and recorded his first major league hit in his first at bat. Although he played for several teams throughout his career, Jim is widely known for his achievements with the New York Yankees, specifically his heroics in the Post Season.Throughout his career with the New York Yankees (1990-1996, 1999-2000), Jim has been credited for significantly changing the momentum of several series' by hitting numerous clutch post-season home runs. Nicknamed "The King", Leyritz is perhaps best known for his three-run homer off of Mark Wohlers in the 8th inning of Game 4 in the 1996 World Series against the Atlanta Braves. In addition to his Yankee days, Jim also played an integral role for the 1998 San Diego Padres, leading them to the World Series by hitting 4 clutch homeruns and driving in 10RBIS as the Padres went on to play the Yankees in the 1998 World Series. Throughout his 11-year MLB career, Jim also played on the following teams: Anaheim Angels (1997), Texas Rangers (1997), Boston Red Sox (1998), San Diego Padres (1998-1999) and Los Angeles Dodgers (2000).
After leaving the game of baseball, Jim enjoyed a successful career in Radio and TV Broadcasting (2004-2008). In 2011, he served as the Hitting & Pitching Coach for the Newark Bears with former Yankees teammate and Hall of Famer Tim Raines. Jim remains under a Special Services Agreement for the New York Yankees and continues to work for several charitable foundations including the Board of the 9/11 Education Trust Foundation, and the ALS Association for Lou Gehrig's disease, which he lost his brother-in-law Joe from in 2010. From 2015-2021 Jim was the National Spokesperson for Pinktie.org, a philanthropic organization that raises money specifically for New York Charities
Robin DiLauri, co -owner of Down Neck Productions and President of LongShore Entertainment is currently overseeing five novels along with an exciting series -The Narrows, a character driven crime drama/ family drama set in Newark, New Jersey. Robin has also carved out an amazing career highlighted as one of the Premiere performers in the NYC area having toured both nationally and internationally. She has written, produced, and directed several productions including her latest show based on the lives and music of some of New Jersey's musical legends. This respected Professional Artist has opened for Lady Gaga, Tony Bennett, Barry Manilow, and the legendary band Chicago. As a young adult, Robin appeared on Ed McMahon's Star Search. Professionally, Robin's most memorable tour was with the American Legion entertaining veterans across the country. Four of Robin's uncles, her father, as well as her brother, have all served in the US NAVY. Additionally, Robin's experience with fostering young talents, whether it be through guiding them to write and create their own theatrical pieces or bringing out their inner giants, is where Robin and her students shine, respectively. She served as Executive Producer, for the Miss New Jersey Education Foundation, the official preliminary to Miss America, using her experience as a Certified New Jersey Teacher to help the youth navigate their futures. Robin's teaching experiences and creative ideas have helped CEOs and Board Directors bring awareness to causes and foundations. Throughout her life, Robin has been driven by her love for her father's youngest brother, Louis who was born with Down Syndrome. Their relationship combined with the universal language of music has resulted in both Robin & Louis sharing the stage performing in front of thousands. She continues to work closely with the National Down Syndrome Society to bring her Uncle's message of love and acceptance to the masses. Louis has headlined in Central Park singing "New York, New York" to kick off NDSS's annual Buddy Walk. This proven leader is more than a Rockstar! She has dedicated her life to teaching both in a classroom setting and privately. Her belief has always been that there is so much to share. She is a proud mother of two boys and has been recognized as a passionate role model.