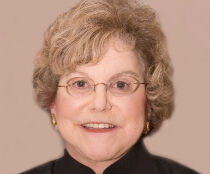 Ms. Marks, is a dynamic, seventy-something, CEO/grandmother who runs a media empire from her Mystic, Connecticut headquarters that spreads a message of inter-generational harmony on national radio, as well as the Internet and in print. Her non-stop assault on negative senior stereotypes and ignorance about upper demographic issues also includes continuous speaking engagements before civic groups, professional associations, and industry conventions all across the country. She is one of America's most active champions of that rapidly growing segment of the population whom she refers to as "seasoned citizens."
As CEO of Focus Communications, Inc., Ms. Marks oversees the operation of a rapidly growing nationally syndicated daily radio program titled "A Touch of Grey: The Talk Show for Grownups." The one-hour show, heard on several stations across America, including New York City's AM970 The Apple, presents a roundtable format in which all aspects of being over 50 years old are discussed. The show presents a cast of regular co-hosts including top broadcast professionals such as TALKERS magazine editor Michael Harrison; well-known WFAN, New York, and FOX Sports Channel host Richard Neer; and prominent attorney Steven J.J. Weisman in conversations with celebrities, experts and newsmakers from all walks of life. The ever-informative Ms. Marks presides over the discussions as the program's featured commentator adding her insights and opinions to the spirited dialogue.
Recent guests on "A Touch of Grey: The Talk Show for Grownups" include John McEnroe, Jill Clayburgh, Donna Mills, Mary Chapin Carpenter, Billy Joel, Suzanne Sommers, Doris Roberts, Melanie Mayron, and Maria Muldour in addition to doctors, professors, government officials and a wide variety of authors.
Topics include Ms. Marks' favorites — the rising cost of prescription drugs, the future of Social Security and Medicare, problems facing the "sandwich generation" who must take care of young adult children on one side and elderly parents on the other, planning retirement during difficult economic times, how to get the most out of a vacation, the best ways to choose a nursing home, safe and effective ways to diet and exercise, understanding leading edge technology, and countless other subjects that encompass arts and entertainment, politics, science, money, romance and more.
Quite often Carole Marks will take her show on the road and, via state-of-the-art satellite and telephone technology, will broadcast live from such diverse (and exotic) places as the United States Senate Office Building, the jungles of Africa, the Taj Mahal, the North American Orient Express, or a glacier in Antarctica! Word is that she is planning to take her microphone down to the bottom of the ocean and report on the state of the Titanic.
"If I could broadcast my show from the moon, I would," she says, adding, "I want people to know that just because you've put on a few years doesn't mean you can't go out and explore the world and life, and, most important, continue to learn and grow."
In addition to being a social and political influence in the upper demographic arena, Carole Marks has significantly increased her company's connections to world of broadcasting in general. Several years ago, Focus Communications acquired TALKERS magazine, the leading trade publication in the fields of talk radio and talk television. That expansion included the magazine's annual convention, the New Media Seminar, which draws top broadcasters to New York each year to hear industry and political leaders address issues of concern to mass communications. President George W. Bush served as keynote speaker at Ms. Marks' event in 2000.
Each year, the mean population of the United States becomes measurably older as the boomer generation passes the 50-year milestone in unprecedented droves. "Yet," as Carole Marks so accurately points out, "Madison Avenue and the mainstream media cater to their distorted image of youth, pandering to gratuitous sex and silliness, while the boomers go, for the most part, unserved and ignored. That is a huge mistake."
It is a mistake that Carole Marks is well on her way to rectifying.